Study, work or travel in the UK. British culture and life.

Prepare roast beef and Yorkshire pudding
Buy products connected with cooking:
---

INTRODUCTION
Instructions for making a traditional British Sunday lunch: roast beef with Yorkshire pudding, roast poatatoes, vegetables and gravy.
Other popular roast lunches are pork, lamb, chicken and turkey (especially at Christmas time).

Back to top
---

ROAST BEEF

Place meat and onions (cut into quarters) in a roasting tin. Pour some cooking oil over the onions.
Use a skewer to make a hole in the meat and add an oven thermometer (if you have one).
Cover with foil and place in a pre-heated oven at 350F (180C). The low temperature helps the meat to keep its flavour.
The cooking time is about 20 minutes per pound of meat (1 pound is about 450 grams), plus another 20 minutes. For the 3-pound meat shown, the cooking time is 1 hour 20 minutes (= 3 x 20 minutes + 20 minutes).


---

ROAST POTATOES / VEGETABLES

Peel potatoes, cut, add to a pan with water and part-boil for about 10 minutes. Drain away the water.
Heat a little oil or fat in a roasting tin in an oven. When hot, put the potatoes into the tin. Turn the potatoes until they are covered in oil or fat.
Cook in an oven at a temperature of 400F (200C) for about 20 minutes (until brown at the edges).
Other vegetables to be served with the meal should be cooked at the same time.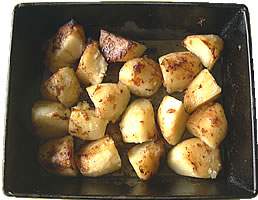 Roast potatoes
Back to top
---

YORKSHIRE PUDDING
Ingredient

Imperial measure

Metric measure

Plain flour

2 heaped tablespoons

40 g (grams)

Eggs

2 large eggs

Milk

5 fl oz (fluid ounces) = 0.25 pints

150 ml (millilitres)

Water

3 fl oz (fluid ounces) = 0.15 pints

75 ml (millilitres)
| | |
| --- | --- |
| Break 2 eggs into the flour | Add mixture of milk and water |
Whisk. Leave until 10 minutes

before the meal, and whisk again

Use a spoon to pour mixture

into a pre-heated metal tray

About 10 minutes before serving the meal, add a little oil to the bottom of a pre-heated metal tray (preferable a special Yorkshire pudding tray, but a rectangular tin can also be used). Spoon or pour the mixture you have made into the tray and cook for about 10 minutes until the Yorkshire pudding has risen and become brown at the edges.

Back to top


---

GRAVY
Ingredient

Imperial measure

Metric measure

Plain flour

2 heaped tablespoons

40 g (grams)

Cold water

Enough to dissolve the flour

Gravy browning (optional)

A few drops

Stock cubes

Two
Put 2 tablespoons of flour

into a bowl (remove any lumps)

Add some water to the flour.

You can add gravy browning if you wish

Stir with

a spoon
Place two stock cubes

in a container

Add boiling water to dissolve

the cubes, and stir

Pour into mixture and stir.

Boil in a pan to thicken it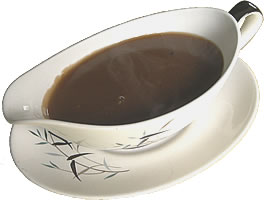 Gravy
Back to top
---

SUNDAY LUNCH
| | | |
| --- | --- | --- |
| Lunch plate | Dining room table | Roast beef, potatoes & gravy |

Traditional accompaniments for roast beef are horseradish sauce and/or mustard. For roast lamb, people add redcurrant jelly and/or mint sauce. For pork, people add apple sauce, and for turkey they add cranberry sauce. Most people like to pour gravy over the meal to add extra flavour. A roast meal is traditionally served at home around a dining room table. As well as roast potatoes and Yorkshire pudding, two vegetables are often served with the meal (for example: carrots, peas, green beans or sprouts).

Back to top


---

LINKS

British food: Britain/Food

Home page: Home

Back to top

© UK Student Life 2002-2009


---

* Search this website (www.ukstudentlife.com) or the web: