Study, work or travel in the UK. British culture and life.

How to make flapjack
Buy products connected with cooking:
---

INTRODUCTION
Below are simple instructions for making flapjack. This recipe uses butter and demerara sugar; other recipes sometimes use treacle or syrup instead. Other variations include adding sultanas, cherries or coconut, or covering with a layer of milk chocolate.

Delia Smith's Book of Cakes
Author: Delia Smith
Publisher: Coronet
Date: August 1995

Mary Berry's Ultimate Cake Book: Over 200 Classic Recipes
Author: Mary Berry
Publisher: BBC Consumer Publishing (Books)
Date: June 2003

Oat Cuisine: Classic and New Recipes for Cooking and Baking with Oats
Author: Rita Greer
Publisher: Souvenir Press Ltd
Date: October 2000
Back to top
---

EQUIPMENT

- Scales (not essential)
- A large bowl (for mixing the ingredients)
- A pan (for melting the butter)
- A large spoon (ideally wooden) (for stirring the butter in the pan and mixing the ingredients)
- A knife (for cutting the butter and flapjack)
- A metal tray (at least 3cm deep) (for cooking in the oven)
- A gas or electric oven

Back to top


---

INGREDIENTS

The following is enough to make about 18 slices of flapjack.


| | | | |
| --- | --- | --- | --- |
| Oat flakes (8oz) | Demerara sugar (6oz) | Butter (6oz) | A pinch of salt |
Ingredient

Imperial measure

Metric measure

Oat flakes

8 ounces (8 oz)

225 grams

Demerara sugar (brown, rough sugar)

6 ounces (6 oz)

175 grams

Butter

6 ounces (6 oz)

175 grams

Salt

A pinch
Back to top
---

INSTRUCTIONS
| | | | |
| --- | --- | --- | --- |
| Add oats, sugar and salt; mix | Melt the butter in a pan, and add | Stir with a spoon ... | ... until evenly coloured |
| | | | |
| --- | --- | --- | --- |
| Put in metal tray (20cm x 20cm) | Bake in a pre-heated oven ... | ... 375F (190C) for 20 minutes | Allow to cool, and cut |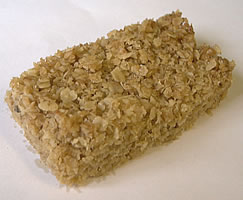 A piece of flapjack
Back to top
---

LINKS

Other recipes: Britain/Food/Cooking
Teatime in Britain: Britain/Food/Teatime

Home page: Home

Back to top

© UK Student Life 2002-2009


---

* Search this website (www.ukstudentlife.com) or the web: