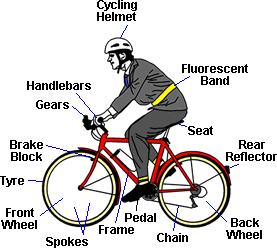 The word bicycle is often shortened to bike.
A person who rides a bike is called a cyclist.
A person who walks is a pedestrian, and a driver is a motorist.
A cycleway or cycle path is part of a road that cyclists can use safely.

The main parts of a bicycle are shown in the diagram. In addition:

A handbell (or bell) can be used to attract the attention of drivers.
A dynamo, front light and back light may be needed.
A strong bicycle lock may stop someone from stealing your bike.