Study, work or travel in the UK. British culture and life.

Guide to the London stage musical "Mamma Mia!"
---

INTRODUCTION

This page is a brief guide to the stage musical Mamma Mia! It is currently being staged at the Novello Theatre in London's West End.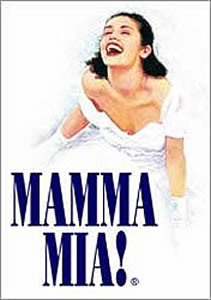 Mamma Mia! poster
---

TICKETS

The Novello Theatre is in Aldwych, London, WC2B 4LD. The nearest Tube stations are Covent Garden, Charing Cross or Temple.

Performances start times are as follows (you should arrive at the theatre 30 minutes earlier):


| | | | | | | | |
| --- | --- | --- | --- | --- | --- | --- | --- |
| Day | Mon | Tue | Wed | Thu | Fri | Sat | Sun |
| Matinee | - | - | - | - | 5:00 | 3:00 | - |
| Evening | 7:30 | 7:30 | 7:30 | 7:30 | 8:30 | 7:30 | - |
The running time (including the interval) is 2h35.
To book a ticket to see the stage musical Mamma Mia! in London click on this link:
Encore Tickets
Click here to see the
seating plan
for this theatre.
Back to top
---

MAIN CHARACTERS

The following are the main characters in the musical:

Sophie Sheridan: A 20-year-old girl living with her mother on a Greek island
Sky: Sophie's fiancé


| | |
| --- | --- |
| Sophie (centre) shows her mother's diary to her friends | Sky and his male friends during the stag night |

Donna Sheridan: Sophie's mother, who has brought up Sophie by herself
Tanya: Sophie's friend, formerly a member of the band Donna and the Dynamos, who is rich and has divorced several different men
Rosie: Sophie's friend, the most sensible of the former members of the band Donna and the Dynamos


| | |
| --- | --- |
| Rosie, Tanya and Donna sing "Dancing Queen" | The women sing "Gimme! Gimme! Gimme! (A Man After Midnight)" |

Sam Carmichael: the first of the men who had a love affair with Donna 20 years earlier
Harry Bright: the second of Donna's ex-lovers
Bill Austin: the third of Donna's former partners, a successful travel writer

Back to top


---

STORY OUTLINE

Sophie is about to get married. She has been brought up by her mother on a Greek island, and has never known who her father is. However, Sophie discovered her mother's old diary and learnt that her mother had affairs with three different men (Sam, Harry and Bill) shortly before she was born. Sophie has secretly invited all three men to her wedding, thinking that she will be able to recognise her father when she sees him. She wants her true father to take part in her wedding ceremony.

Sophie's mother Donna has invited her two best friends (Tanya and Rosie) to her daughter's wedding. The three of them used to be in a band called Donna and the Dynamos and had a lot of fun together.

The musical follows the chaotic events from the arrival of the guests on the island to the wedding day itself.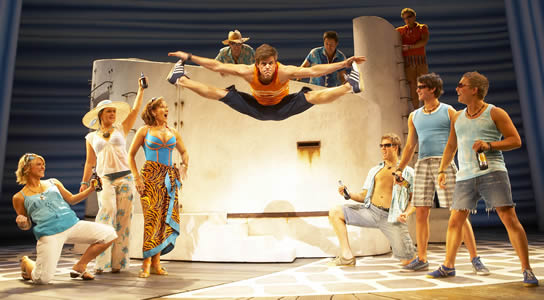 Pepper gives a high jump
Back to top
---

MUSIC

The range of emotions and different types of relationships are brought to life using songs which were originally written and performed by the Swedish pop group Abba.
Abba took its name from the first letters of the names of its four members: Björn Ulvaeus, Benny Andersson, Agnetha Fältskog, and Anni-Frid Lyngstad.


Abba: The Definitive Collection (CD compilation)
Artist: Abba
Label: Polydor
Date: March 2008

Abba Gold (CD compilation)
Artist: Abba
Label: Universal
Date: April 2004

More Abba Gold (CD compilation)
Artist: Abba
Label: Polydor
Date: December 1993

Ring Ring (CD; released 1973)
Artist: Abba
Label: Polydor
Date: March 2002

Waterloo (CD; released Jun 1974)
Artist: Abba
Label: Polydor
Date: March 2002

Arrival (CD; released Nov 1976)
Artist: Abba
Label: Polydor
Date: January 2002

Abba - The Album (CD; released Feb 1978)
Artist: Abba
Label: Polar Records
Date: February 2002

Voulez-Vous (CD; released May 1979)
Artist: Abba
Label: Polydor
Date: January 2002

Super Trouper (CD; released Nov 1980)
Artist: Abba
Label: Polydor
Date: March 2002

The Visitors (CD; released Dec 1981)
Artist: Abba
Label: Polydor
Date: January 2002

The songs featured in the musical are as follows:
(for lyrics, see: http://www.elyricsworld.com/abba_lyrics.html)


| | | | |
| --- | --- | --- | --- |
| Song title | UK chart entry | Highest position | Chart weeks |
| I Have A Dream | Dec 79 | 2 | 10 |
| Honey, Honey | - | - | - |
| Money, Money, Money | Nov 76 | 3 | 12 |
| Thank You For The Music | Nov 83 | 33 | 6 |
| Mamma Mia | Dec 75 | 1 | 14 |
| Chiquitita | Feb 79 | 2 | 9 |
| Dancing Queen | Aug 76 | 1 | 15 |
| Lay All Your Love On Me | Jul 81 | 7 | 7 |
| Super Trouper | Nov 80 | 1 | 12 |
| Gimme! Gimme! Gimme! (A Man After Midnight) | Oct 79 | 3 | 12 |
| The Name Of The Game | Oct 77 | 1 | 12 |
| Voulez-Vous | Jul 79 | 3 | 11 |
| Under Attack | Dec 82 | 26 | 8 |
| One Of Us | Dec 81 | 3 | 10 |
| SOS | Sep 75 | 6 | 10 |
| Does Your Mother Know | May 79 | 4 | 9 |
| Knowing Me, Knowing You | Feb 77 | 1 | 13 |
| Our Last Summer | - | - | - |
| Slipping Through My Fingers | - | - | - |
| The Winner Takes It All | Aug 80 | 1 | 10 |
| Take A Chance On Me | Feb 78 | 1 | 10 |
| I Do, I Do, I Do, I Do, I Do | Jul 75 | 38 | 6 |
| Waterloo | Apr 74 | 1 | 9 |


Other UK hits by Abba which are not featured in the musical:


| | | | |
| --- | --- | --- | --- |
| Song title | UK chart entry | Highest position | Chart weeks |
| Ring Ring | Jul 74 | 32 | 5 |
| Fernando | Mar 76 | 1 | 15 |
| Summer Night City | Sep 78 | 5 | 9 |
| Angel Eyes (double-A side with Voulez-Vous) | Jul 79 | 3 | 11 |
| Head Over Heels | Feb 82 | 25 | 7 |
| The Day Before You Came | Oct 82 | 32 | 6 |
Back to top
---

SUITABILITY

English: The story is simple and easy to follow.
Age: Suitable for adults of all ages and for teenagers. The language used includes some mild sexual references.
Mood: This is a feel-good musical with many comic moments.
Music: You will enjoy this show if you like Abba's songs. The tunes are very catchy and can appeal to people of all generations.

Back to top


---

MAMMA MIA! THE FILM

The film opened in the UK in July 2008. To see the film trailer: click here.

The main actors/actresses are:

- Amanda Seyfried (Sophie): a young American actress. She will appear with Stellan Skarsgård in the film Boogie Woogie. See: http://www.imdb.com/name/nm1086543
- Dominic Cooper (Sky): a young British actor. He will appear with Stellan Skarsgård in the TV drama God on Trial. See: http://www.imdb.com/name/nm1002641

- Meryl Streep (Donna): a famous American actress, one of whose recent films was The Devil Wears Prada. See: http://www.imdb.com/name/nm0000658
- Christine Baranski (Tanya): an American actress. She has appeared in many films, including Chicago and Bowfinger. See: http://www.imdb.com/name/nm0004724
- Julie Walters (Rosie): a British actress, best-known for her TV shows with Victoria Wood and roles in Billy Elliott, Calendar Girls and the Harry Potter films. See: http://www.imdb.com/name/nm0910278

- Pierce Brosnan (Sam): an Irish actor, best-known for starring in the James Bond films from 1995 to 2002. See: http://www.imdb.com/name/nm0000112
- Colin Firth (Harry): a British actor, well-known for roles in the Bridget Jones films, Love Actually, and the TV adaptation of Pride and Prejudice. See: http://www.imdb.com/name/nm0000147
- Stellan Skarsgård (Bill): a Swedish actor. He will appear with the young stars of Mamma Mia in the film Boogie Woogie and the TV drama God on Trial. See: http://www.imdb.com/name/nm0001745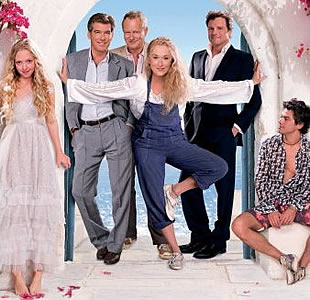 Sophie, Sam, Bill, Donna, Harry and Sky


The main film locations are in the Greek islands of Skiathos (map) and Skopelos (map).

The following Abba songs appear in the film (there are some differences between which songs appear in the film and in the musical, and in the order):
I Have A Dream ; Gimme! Gimme! Gimme! (A Man After Midnight) ; Honey, Honey ; Waterloo ; Money, Money, Money ; Mamma Mia ; Chiquitita ; Dancing Queen ; Our Last Summer ; Lay All Your Love On Me ; Super Trouper ; Voulez-Vous ; SOS ; Does Your Mother Know ; Slipping Through My Fingers ; The Winner Takes It All ; I Do, I Do, I Do, I Do, I Do ; When All Is Said And Done ; Take A Chance On Me ; Thank You For The Music


Back to top


---

FURTHER INFORMATION

Official website for the musical: http://www.mamma-mia.com/london/london.asp
Official website for the film: http://www.mamma-mia-themovie.co.uk

Back to top


---

LINKS

British theatre: Life/Entertainment/Theatre
West End Live: Ideas/Album/West-End-Live

If you like Mamma Mia! you may also be interested in these musicals:
Never Forget: Life/Entertainment/Theatre/Never-Forget
Buddy: Life/Entertainment/Theatre/Buddy
Jersey Boys: Life/Entertainment/Theatre/Jersey-Boys

Home page: Home

Back to top

© UK Student Life 2002-2012


---

* Search this website (www.ukstudentlife.com) or the web: