Study, work or travel in the UK. British culture and life.

Guide to the London stage musical "Legally Blonde"
---

INTRODUCTION

This page is a brief guide to the stage musical Legally Blonde. The musical is based on a popular 2001 film. It played in Broadway between April 2007 and October 2008, before moving to London's West End in January 2010. The show is being staged at the Savoy Theatre.

The original London cast included the following actors/actresses:


| | | |
| --- | --- | --- |
| Sheridan Smith (who played Elle) | Alex Gaumond (who played Emmett) | Duncan James (who played Warner) |
---

TICKETS

Performances start times are as follows (the theatre opens about 45 minutes earlier):


| | | | | | | | |
| --- | --- | --- | --- | --- | --- | --- | --- |
| Day | Mon | Tue | Wed | Thu | Fri | Sat | Sun |
| Matinee | - | - | - | 2:30 | - | 2:30 | 3:00 |
| Evening | 7:30 | - | 7:30 | 7:30 | 7:30 | 7:30 | - |
The performance lasts about 2h25, with one 20 minute interval.
The Savoy Theatre is at Savoy Court, Strand, London WC2R 0ET (nearest Tube stations: Charing Cross, Covent Garden or Temple)
To book a ticket to see Legally Blonde click on one of these links:
Encore Tickets
Click here to see the
seating plan
for this theatre.
If you go to the box office at the Savoy Theatre between 2 hours and 1h30 before a performance starts (eg between 5:30pm and 6pm for a 7:30pm show) you can ask for a free lottery ticket. You need to fill in your name and contact details and hand this in to the box office. There is a random draw 1h30 before the performance (eg at 6pm for a 7:30pm show) - if your lottery ticket is chosen you will be able to buy one or two "best available" tickets for the next show for a reduced price (for example £25 each) but must pay in cash. The draw is made in the courtyard outside the box office, and you need to be there in person at the time of the draw. A maximum of 20 tickets are available each day, usually for front row seats. Note that details of this promotion may change.
---

MAIN CHARACTERS

The main characters are:

Elle Woods: a girl who studied fashion of the University of California
Warner Huntingdon the Third: Elle's boyfriend, who has obtained a place at Harvard Law School
Bruiser: Elle's dog (a chihuahua)

Professor Callahan: law professor at Harvard Law School
Emmett: a male student at Harvard Law School (his middle name is Brendan)
Vivienne Kensington: a female student at Harvard who went to the same boarding school as Warner

Paulette Buonofonté: lady who runs a hair salon (The Hair Affair)
Dewey: Paulette's former partner
Rufus: Paulette's dog (a bulldog)
Kyle: a parcel delivery man

Brooke Wyndham: workout lady who has been accused of killing her much older husband
Chutney Wyndham: daughter of Brooke's dead husband
Nikos: a pool boy who claims in the courtroom that he was Brooke's lover

Back to top


---

BACKGROUND NOTES

***

The musical is based largely on the film version of a novel written by Amanda Brown


Legally Blonde (book)
Author: Amanda Brown
Publisher: Sphere
Date: April 2003


***

A sorority is a college social group for female students (a fraternity is the equivalent social group for male students). Students have to apply to become members. They are usually named using two or three Greek letters (usually the letters are taken from the original name of the society or from its motto). Elle is a member of the fictional Delta Nu group: delta is the Greek letter "D" (the capital letter looks like a triangle), and nu is the Greek letter "N" (the capital letter looks like the letter N). In the book Elle was a member of Delta Gamma (the name of a real sorority), but this was changed in the film and musical.

***

A Greek chorus is a company of actors who comment on the action in a classical Greek play by speaking or singing.

***

There are several references to Irish culture in the musical. Enya is an Irish artist whose music is based on Celtic influences. Brendan is a traditional Irish male name (based on a 5th century Irish saint). A leprechaun is a creature in Irish mythology which often causes trouble - it is usually shown as being a short old man wearing green coat and hat. There is mention of Irish whiskey and Irish bagpipes, and some Irish dancing.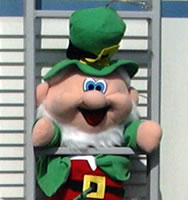 A leprechaun


***

Malibu is a city in western Los Angeles County in California. Much of Malibu runs along the Pacific coastline. It is famous for its warm, sandy beaches, and for being the home of many film stars and others associated with the Southern California entertainment industries

***

Ivy League refers to eight of the top US universities, including Yale and Harvard.

***

The Harvard crest is marked with the word Veritas. This is Latin for "truth"

***

Elle studies the book LSAT for Dummies. LSAT is the "Law Schools Admission Test", which is taken by applicants to all law schools in the US. The perfect score is 180.

***

Back to top


---

MUSIC
Act 1
Omigod You Guys
Serious
Daughter of Delta Nu
What You Want
The Harvard Variations
Blood in the Water
Positive
Ireland
Ireland (Reprise)
Serious (Reprise)
Chip On My Shoulder
So Much Better
Act 2
Whipped Into Shape
Take It Like A Man
Bend and Snap
There! Right There!
Legally Blonde
Legally Blonde Remix
Omigod You Guys (Reprise)
Find My Way/Finale
Back to top
---

SUITABILITY

English: American accents are used. If you have seen the first Legally Blonde film you will already be familiar with the story.
Age: This show is suitable for adults or older children. There is some slang and mild sexual references. It is especially popular with young adult females.
Music: The musical contains original songs, mainly in a lively pop style. There is some dancing.
Mood: This is a "feel good" show

Back to top


---

LEGALLY BLONDE: THE FILMS
Back to top
---

FURTHER INFORMATION

Official website for the musical: http://www.legallyblondethemusical.co.uk

Wikipedia article: http://en.wikipedia.org/wiki/Legally_Blonde_(musical)
Lyrics for the songs: http://www.allmusicals.com/l/legallyblonde.htm

Film script: http://www.imsdb.com/scripts/Legally-Blonde.html

Back to top


---

LINKS

British theatre: Life/Entertainment/Theatre
West End Live: Ideas/Album/West-End-Live

If you like Legally Blonde you may also be interested in these musicals:
Wicked: Life/Entertainment/Theatre/Wicked
Dirty Dancing: Life/Entertainment/Theatre/Dirty-Dancing
You might also enjoy Hairspray or Grease

Home page: Home

Back to top

© UK Student Life 2002-2012


---

* Search this website (www.ukstudentlife.com) or the web: