Study, work or travel in the UK. British culture and life.

Guide to the London stage musical "Chicago"
---

INTRODUCTION

This page is a brief guide to the stage musical Chicago. The story is based around two women who murdered their lovers in Chicago in the 1920's.



| | |
| --- | --- |
| Chicago poster | |
Back to top
---

TICKETS
Chicago is currently being performed at the Garrick Theatre in Charing Cross Road, London WC2H 0HH (nearest Tube or train station: Charing Cross or Covent Garden)
Performances start times are as follows (you should arrive at the theatre 30 minutes earlier):
| | | | | | | | |
| --- | --- | --- | --- | --- | --- | --- | --- |
| Day | Mon | Tue | Wed | Thu | Fri | Sat | Sun |
| Matinee | - | - | - | - | 5:00 | 3:00 | - |
| Evening | 8:00 | 8:00 | 8:00 | 8:00 | 8:30 | 8:00 | - |
The running time (including one 20 minute interval) is 2h20.
To book a ticket to see the stage musical Chicago in London click on this link:
Encore Tickets
Click here for a
seating plan
for this theatre.
Back to top
---

THE STORY OF "CHICAGO"

"Chicago" was originally a play written by Maurine Dallas Watkins (1896-1969).

The 1920's was during the period of prohibition, when drinking alcohol was illegal in the United States (between 1920 and 1933). During this time there were many gangsters in Chicago (including Al Capone). There was also an expansion of industry in Chicago, which attracted African Americans from the South - this led to the city becoming a centre for jazz.

Before becoming a playwright Maurine Watkins had been a reporter for a local newspaper called the Chicago Tribune. She based this story on the following two murder cases from that time:

- In March 1924 a cabaret singer called Belva Gaertner, drunk with gin, shot dead her married lover in a car. Her defence lawyer was a man called William Scott Stewart. In court it was claimed that Belva's lover might have shot himself. The court decided found her not guilty.

- In April 1924 (just 3 weeks after the previous murder) a lady called Beulah Sheriff Annan shot her lover in the back. For a couple of hours she sat on her bed watching him die while listening over and over again to a record called Hula Lou. She then called her husband to tell him she had shot a man who had tried to make love to her. She kept changing her story when she was questioned by the police. Her husband stood by her and paid for her defence lawyer (William W. O'Brien). At her trial she claimed that she had told her lover that she was pregnant and they had both reached for the gun at the same time. The court found her not guilty. The next day she divorced her husband.

In the play Belva became Velma Kelly, Beulah became Roxie Hart, and the two defence lawyers became the single character Billy Flynn. It was staged on Broadway in 1926 and made into a silent film in 1927. Bob Fosse (director), John Kander (music) and Fred Ebb (lyrics) created the musical version, with the title "Chicago: A Musical Vaudeville" (the same team had previously created the film Cabaret, starring Liza Minelli). The show's opening night on New York's Broadway was in 1975. It was revived there in 1996, and has continued ever since. The show was first performed in the West End at the Cambridge Theatre in April 1979. The London revival opened in November 1997 at the Adelphi Theatre, where it continued for 9 years before being transferred back to the Cambridge Theatre in April 2006. In 2011 it transferred to the Garrick Theatre.

A film version of Chicago was completed in 2002, directed by Rob Marshall. It starred Renée Zellweger as Roxie Hart, Catherine Zeta-Jones as Velma Kelly, and Richard Gere as Billy Flynn. It won six Oscars.


Chicago [2002] (DVD: film version of the story)
Starring: Catherine Zeta Jones, Renee Zellweger, Richard Gere
Studio: Walt Disney Studios Home Entertainment
Date: March 2008

Chicago [Film soundtrack] (CD)
Artists: Original Soundtrack
Label: Epic
Date: January 2003
Back to top
---

MAIN CHARACTERS

The following are the main characters in the musical:

Roxie [=Roxanne] Hart: A former chorus girl who dreams of becoming a star. She kills her lover, who is a furniture salesman called Fred Casely.
Velma Kelly: A singer who used to perform a double act with her sister, but killed her husband and her sister after finding them in bed together
Billy Flynn: A corrupt defence lawyer who defends both Roxie and Velma, but is more interested in money than in justice
Amos Hart: Roxie's loyal husband, a car mechanic who is not very bright and is easily led
"Mama" Morton: Governess at the Cook County Jail, where both Roxie and Velma are put in the "Murderers' Row" section before their court trails
Mary Sunshine: A lady reporter for a local Chicago newspaper
Harrison: The senior prosecution lawyer (district attorney) who is responsible for accusing Roxie of murder in the court

Back to top


---

MUSIC


The songs featured in the stage musical are as follows. They are in the order in which they are sung.



Song Title
Intro And Overture
All That Jazz
Funny Honey
Cell Block Tango
When You're Good To Mama
All I Care About
Little Bit Of Good
We Both Reached For The Gun
Roxie
Roxie (2)
I Can't Do It Alone
My Own Best Friend
Finale Act 1
Entr'acte
I Know A Girl
Me And My Baby
Mister Cellophane
When Velma Takes The Stand
Razzle Dazzle
Class
Nowadays
Hot Honey Rag
Finale


All That Jazz is the first and most famous of the songs in the musical. It is sung by the dancer/performer Velma Kelly:



All That Jazz (extract)
Come on, Babe, why don't we paint the town?
And all that Jazz
I'm gonna rouge my knees and roll my stockings down
And all that Jazz
Start the car: I know a whoopee spot
Where the gin is cold, but the piano's hot
It's just a noisy hall where there's a nightly brawl
And all ... that ... Jazz!


This song is describing the atmosphere in a nightclub in Chicago in the 1920's: a mix of jazz music, burlesque entertainers (dancers who reveal quite a lot of their bodies during their acts), illegal gin, violence (a "brawl" is a fight) and sex (jazz was also used as a slang word meaning to make love). One of the lines of the song is "I bet you lucky Lindy never flew so high". This is a reference to Charles Lindbergh who made the world's first solo flight from New York to Paris in August 1927 in a plane called the Spirit of St. Louis: the press referred to him as "Lucky Lindy".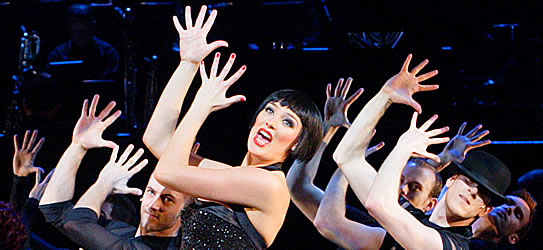 "All That Jazz"


In the Cell Block Tango six women explain why they are in prison accused of murdering their partners, but protest that the men deserved to be killed ("they had it coming ... they only had themselves to blame"). The opening chorus is:



Cell Block Tango (extract)
Liz: Pop
Annie: Six
June: Squish
Hunyak: Uh-Uh
Velma: Cicero
Mona: Lipschitz!


The reasons why each of them use these words are explained in the words of the song:
- Liz killed her partner Bernie because she was annoyed that he continued to pop his gum (ie blowing bubbles until they burst).
- Annie poisoned her partner with arsenic, after discovering that he wasn't single but actually had six wives.
- June was accused by her husband Wilbur of making love to the milkman. The noise of her knife as it went into his body was squish.
- Hunyak explains in Hungarian: "What am I doing here? Why do they say, the famous Police, that I held down my husband and with an axe cut off his head? It isn't true! My hands are white (i.e. I am innocent). I don't know why they have told Uncle Sam [=the United States] that I did this. I tried to explain to them but they will not understand...". When June asks if she did it she replies "Uh-uh not guilty" ("uh-uh" means "no"). She is the only one of the six women who denies murder (but is the only one who is hanged).
- Velma was at the Hotel Cicero with her husband Charlie and her sister Veronica and killed them both after finding them making love.
- Mona's partner was an artist called Alvin Lipschitz. He had relationships with other women and a man.

Cellophane is a thin transparent material invented in 1908 (used to make products such as Sellotape). Amos Hart sings this song:



Mister Cellophane (extract)
Cellophane
Mister Cellophane
Should have been my name
Mister Cellophane
'Cause you can look right through me
Walk right by me
And never know I'm there ...


Back to top


---

JAZZ

The musical style known as jazz was created in New Orleans at the start of the 20th century, before spreading to Chicago and New York in the 1920s.

Back to top


---

VOCABULARY

If your first language is not English you may find it helpful to study the words to the show before going to see it.
You can read the words here: http://web.archive.org/web/20040107173100/libretto.musicals.ru/text.php?textid=74&language=1

Back to top


---

SUITABILITY

English: Some slang is used.
Age: Suitable for adults of all ages and teenagers. The story includes some sexual references and violence, expressed indirectly in an artistic way (the film version is rated "12").
Mood: Dramatic and sexy
Music: There is music throughout most of the show, mostly in a light jazz style.

Back to top


---

FURTHER INFORMATION

Official website for the London musical: http://www.chicagothemusical.com/uk_site

Prohibition in the United States: http://en.wikipedia.org/wiki/Prohibition_in_the_United_States
Vaudeville: http://en.wikipedia.org/wiki/Vaudeville
History of the city of Chicago: http://en.wikipedia.org/wiki/Chicago

To find out how former inmates describe life inside Cook County Jail, see: http://www.cookcojail.com

Back to top


---

LINKS

British theatre: Life/Entertainment/Theatre
West End Live: Ideas/Album/West-End-Live

If you like Chicago you may also be interested in these musicals:
Jersey Boys: Life/Entertainment/Theatre/Jersey-Boys
Buddy: Life/Entertainment/Theatre/Buddy

Home page: Home

Back to top

© UK Student Life 2002-2012


---

* Search this website (www.ukstudentlife.com) or the web: