Study, work or travel in the UK. British culture and life.

Guide to the comedy "Avenue Q"
---

INTRODUCTION

This page is a brief guide to the musical comedy Avenue Q. This was first performed in New York in 2002, moved into a Broadway theatre in July 2003 (winning three Tony Awards in 2004 for Best Musical, Best Original Score of a Musical and Best Book of a Musical). It opened in London's West End in June 2006, originally at the Noël Coward Theatre. It moved to the Gielgud Theatre, and then to the Wyndham's Theatre from May 2010 until October 2010.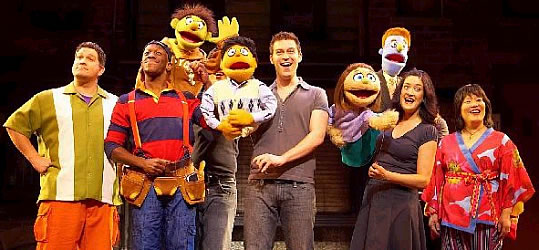 Members of the cast
Avenue Q (book)
Publisher: Hyperion
Date: November 2006
Recommended music to listen to when reading this page:
It sucks to be me
(opens in a new window)
Back to top
---

TICKETS
This show has now closed.
The performance lasts about
2 hours 15 minutes
(including a 15 minute interval).
Back to top
---

STORY OUTLINE

In a Downtown New York neighbourhood, a bright-eyed college graduate called Princeton is looking for a new place to live on Avenue Q. With a tiny bank balance, he is about to come face to face with the realities of life. A variety of weird and wonderful new friends help lead Princeton on a hilarious journey of self-discovery ...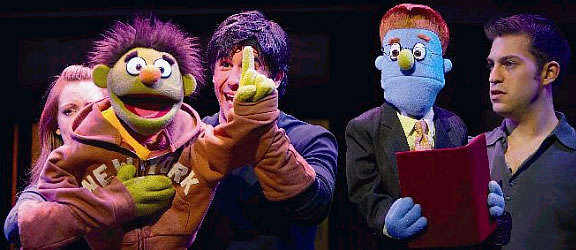 Actors appear on stage with their puppets
Back to top
---

MAIN CHARACTERS

The main characters are as follows:

Princeton: a graduate who is looking for a job and direction for his life
Rod: an investment banker with a secret
Nicky: Rod's less successful friend


Trekkie Monster: a monster who loves internet pornography
Kate Monster: a young romantic teaching assistant who dreams of setting up a school for monsters


| | |
| --- | --- |
| Trekkie Monster | Kate Monster |

Mrs Thistletwat ("Mrs T"): Kate's boss at school: a fierce and very conservative teacher
The Bad Idea Bears: A couple of bears who tempt Princeton to do things that may not be wise ...
Lucy The Slut: a sexy girl who men find irresistable


| | | |
| --- | --- | --- |
| Mrs Thistletwat | The Bad Idea Bears | Lucy the Slut |

Gary: a handyman who used to be a child TV star
Brian: an unsuccessful comedian
Christmas Eve: Brian's oriental girlfriend, who wants to marry Gary and to work as a therapist


| | |
| --- | --- |
| Gary | Christmas Eve and Brian |
Back to top
---

SUITABILITY

Humour: Expect lots of adult jokes.
Age: This production is aimed at adults (it contains scenes which may be unsuitable for children under 12, and children under 5 are not admitted). The appeal may be greatest for people in their 20's or 30's.
Music: There are comic songs throughout the performance.
Language: To understand the jokes you should be a fluent speaker of English.

Back to top


---

MUSIC

The musical's soundtrack contains the following songs (some of these contain explicit lyrics):

1. Avenue Q Theme
2. What Do You Do With A BA In English/It Sucks To Be Me
3. If You Were Gay
4. Purpose
5. Everyone's A Little Bit Racist
6. Internet Is For Porn
7. Mix Tape
8. I'm Not Wearing Underwear Today
9. Special
10. You Can Be As Loud As The Hell You Want (When You're Makin' Love)
11. Fantasies Come True
12. My Girlfriend Who Lives In Canada
13. There's A Fine Fine Line
14. There Is Life Outside Your Apartment
15. More You Ruv Someone
16. Schadenfreude
17. I Wish I Could Go Back To College
18. Money Song
19. School For Monsters/The Money Song
20. There's A Fine Fine Line/What Do You Do With A BA In English


Back to top


---

FURTHER INFORMATION

Official website for the musical: http://www.avenueqthemusical.co.uk


Back to top


---

LINKS

British theatre: Life/Entertainment/Theatre
West End Live: Ideas/Album/West-End-Live
Comedy: Life/Entertainment/Comedy

Home page: Home

Back to top

© UK Student Life 2002-2012


---

* Search this website (www.ukstudentlife.com) or the web: