Study, work or travel in the UK. British culture and life.

Subscribe to:
Diva (lesbian
magazine)

EuroPride 2006 in London

Pride London is an annual event organised by the city's LGBT (lebian/gay/bisexual/transgender) community. Each year a European city hosts a special Euro Pride: London was chosen for the event in 2006. The photos on this page were taken during the main day of celebrations on Saturday 1 July 2006. Similar Pride festivals are organsied in other parts of the UK at different times of the year (for details see the "Further information" section below).

In 2011 Pride London is on Saturday 2 July.



The 2006 parade started at 1pm. The route followed a special route through some of London's main streets: along Oxford Street to Oxford Circus, down Regent Street to Piccadilly Circus, past Trafalgar Square, along Whitehall, then along Victoria Embankment.
Ken Livingstone (left) at the head of the parade.

Next to him is Nicolai Alexeev from Moscow Pride

London streets become especially colourful

during Pride celebrations
| | |
| --- | --- |
| The colours represent diversity | Pink is also traditionally used by the gay community |
| | |
| --- | --- |
| Parading the rainbow flag | Scottish pride |


The EuroPride Rally was in Trafalgar Square after the parade. This was a mixture of entertainment and speeches about current gay issues.


LGBT information stalls

outside the National Gallery

London Mayor

Ken Livingstone

Faniola Gonzalez

from Venezuela
Sir Ian McKellen: acted in The Da Vinci

Code, Lord of the Rings etc ...

Al Start: she is a

singer/songwriter from Brighton

Cyril Nri (left) from TV police drama The Bill +

Amanda Gutierrez-Cooper from the Met Police
Amy Lame (left) presents a review of the last year:

here she interviews two gay doctors

Two members of the group

Pale Day

Michael Cashman: an "out" Labour MEP +

Vladimir Luxuria: Italy's first transgender MP
Miz Fontaine:

rap artist

Kirsten Hearn campaigning

on disabled gay issues
Four Poofs and a Piano play a medley of popular anthems

(they are well-known for a weekly TV appearance on the Jonathan Ross Show)

(this is the fourth member,

and his piano ...)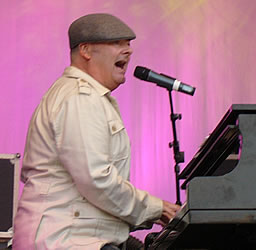 Ian Shaw concludes
with jazz singing
---

LINKS

Pride London in 2005: Ideas/Album/Pride2005
Information for gay men in the UK: Personal/Relationships/Gay
Information for lesbians in the UK: Personal/Relationships/Lesbian
Events in July: Ideas/Events/July

Home page: Home

Back to top

© UK Student Life 2002-2011


---

* Search this website (www.ukstudentlife.com) or the web: