The procession starts outside the Fisherman's Museum, goes up All Saints Street, down the High Street and into George Street, where there is a break. After some liquid refreshment, it continues along the seafront and then along the narrow streets to Castle Hill Road and into the castle grounds. Crowds line the route.
Percival Victor Arbuthnot String

(PVA String): a local Hastings giant

Clerical Error (from Wales) - the

red dragon is a Welsh symbol

Collectors raise money for charity.

The RNLI supports lifeboats in the UK.
Back to top
A couple of storytellers wander around during the day. If you meet one, ask them to tell you a tale or two ...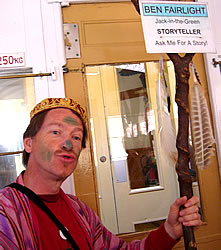 One of the storytellers
Back to top
It is a Maytide tradition to raise a collection of twigs (known as "Twiggy") up the flagpole when Jack arrives at Hastings Castle.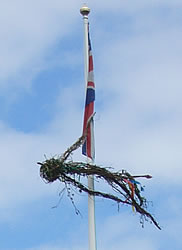 "Twiggy" is raised
In one area there are a series of tents and stalls selling crafts and beer (which has been specially brewed for the occasion). A stage is put up in the centre of the castle ruins. For a couple of hours the teams who took part in the procession put on performances of morris dancing and drumming.
| | |
| --- | --- |
| Who can jump higher - the men ... | ... or the ladies? (Ditchling Morris) |
The dance shown below, by a women's morris team called Black Annis, is a tribute to a man called Captain Matthew Webb (born in the town of Dawley in Shropshire). In 1875 he became the first person to swim the English Channel (it took 22 hours for him to cross). He drowned a few years later when he tried to swim across the rapids at Niagra Falls.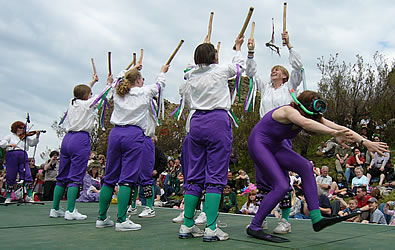 Black Annis (a women's morris team from Leicester)
Copperfield Clog dance in their hand-made clogs (shoes) carrying colourful garlands. Clog Morris processional dances originated in the mill towns of Lancashire.
| | |
| --- | --- |
| Copperfield Clog (from Higham, Kent) | Mithargo |
| | |
| --- | --- |
| Rabble (from Kent) | Rhythm Warriors |
Back to top
During the last few performances the bogies, standing on the hill which overlooks the stage, start to drum. The noise becomes louder and louder as the end approaches. Finally Jack and the bogies come onto the stage.
Mad Jack's Morris Men jump onto the stage, dance around Jack and then slay (kill) him. Now that Jack (a symbol of winter) is dead the summer can start. The leaves and branches are given to the crowd. People take these home and keep them until the Winter Solstice (in late December), when they burn them to get rid of any bad spirits.
Mad Jack's Morris Dancers throw

Jack's remains to the audience ...

... helped by the bogies.

Leaves are kept and burnt in mid-winter.
Back to top


---

FURTHER INFORMATION
For more information about the Jack in the Green festival in Hastings, see:
http://www.hastingsjack.co.uk
Hastings tourist information:
http://www.visithastings.com
Back to top