The tradition of
painting eggs
and using them as decorations or gifts is not common in the UK as it is in some other European countries or in the United States, but it is becoming increasingly popular in recent years. If the egg is to be used as a decoration the contents need to be removed from the shell. The process is as follows:
- put the egg into an empty egg container and hold it firmly in place with one hand
- hold a needle in your other hand and use it to make small holes at the top and bottom, one end larger than the other
- use a long needle to mix together the yolk and the egg-white
- place the egg over a bowl and blow several times through the smaller hole, so that most of the contents come out
- put the egg in a container containing a mixture of water and some vinegar - let the egg become half full of water
- shake the egg gently and blow it again, until the shell is empty
- clean the shell by leaving it for a while in a mixture of water and vinegar (about 3 times as much water as vinegar)
- leave the egg to dry overnight
- once it is dry, decorate the shell with paint or dye
- place a thread through the smaller hole and out the other end
- hang the egg, either from one end of the thread (by tying a knot) or by pinning both ends of the thread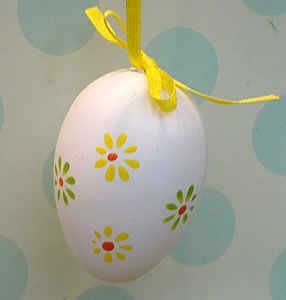 Egg shells may be painted
and used as decorations
Bunnies
(baby rabbits) are are used as symbols at Easter: like eggs, they represent spring as well as the idea of new life. Chocolate bunnies are becoming a popular alternative to chocolate eggs.
In Germany and some other countries (such as the United States) children are told that at Easter they are visited by the
Easter Bunny
, which leaves them eggs or other small gifts. In the UK the Easter Bunny sometimes appears at events for children, but this is not a common part of the Easter celebrations.
This Easter Bunny is

carrying some Easter eggs

A Lindt chocolate-maker hands out

some of the Swiss company's bunnies ...

... helping to raise some money for a

children's charity