Study, work or travel in the UK. British culture and life.

How to make apple crumble with custard
Buy products connected with cooking:
---

INTRODUCTION
Below are simple instructions for making apple crumble, which is a popular pudding in Britain. It is also common to make rhubarb crumble, gooseberry crumble or bramble and apple crumble (brambles are blackberries). Crumble is normally served hot together with custard, cream or ice cream - instructions for making custard are also shown below.

Gordon Ramsay's Just Desserts
Author: Gordon Ramsay, Roz Denny
Publisher: Quadrille Publishing Ltd
Date: January 2003

Puddings and Desserts: Best Kept Secrets of the Women's Institute
Author: Sian Cook
Publisher: Simon & Schuster
Date: September 2002

Savoury and Sweet Crumbles
Author: Camille Le Foll
Publisher: Hachette Illustrated
Date: October 2003

Irish Puddings, Tarts, Crumbles, and Fools: 80 Glorious Desserts
Author: Margaret M. Johnson
Publisher: Chronicle Books
Date: October 2004
Back to top
---

APPLE CRUMBLE

Ingredients:

The following is enough to make a small crumble - enough for about 4 portions:


| | | | |
| --- | --- | --- | --- |
| Self-raising flour (4oz) | Granulated sugar (1oz) | Demerara sugar (1 oz) | Butter (2 oz) |
Ingredient

Imperial measure

Metric measure

Cooking apples

Two

Self-raising flour

4 ounces (4 oz)

120 grams

Granulated sugar

1 ounce (1 oz)
+ 1 tablespoon (on apples)

30 grams
+ 20 grams (on apples)

Demerara sugar (brown, rough sugar)

1 ounce (1 oz)
+ 1 tablespoon (on crumble)

30 grams
+ 20 grams (on crumble)

Butter

2 ounces (2 oz)

60 grams

Equipment:

- Scales (not essential)
- A small bowl and plate
- A knife (for cutting the apples and butter)
- A pyrex dish (suitable for cooking in the oven)
- A gas or electric oven

Instructions:


| | | |
| --- | --- | --- |
| Take two large cooking apples | Peel the apples and slice them | Add granulated sugar |
Mix 1oz granulated sugar,

1oz demerara sugar, 4oz flour

Add the butter

Use your hands to rub it in.

Continue until mixture is lumpy

- do not make it too firm
Place the crumble on top of the apples.

Sprinkle a tablespoon of demerara sugar on top

Bake in a pre-heated oven

at about 350F (175C)

Remove from the oven after

30-40 minutes (when brown)
---

CUSTARD

This is how to make custard from custard powder. For instructions about how to make fresh custard, see: Britain/Food/Cooking/Trifle.

Ingredients:

The following will make enough custard to accompany the 4 portions of apple crumble:


| | | |
| --- | --- | --- |
| Ingredient | Imperial measure | Metric measure |
| Custard powder | One heaped tablespoon | 20g |
| Granulated sugar | Half a tablespoon | 10g |
| Milk | Half a pint | 300 ml |

Equipment:

- A large bowl (for mixing the custard powder, milk and sugar)
- A large spoon (for stirring the custard)
- A pan (for heating the milk)
- A jug (for serving the custard; not essential)

Instructions:


Take one heaped tablespoon

of custard powder

Add half a tablespoon

of granulated sugar

Add a tablespoon

of cold milk
Stir until custard powder

has become liquid

Heat half a pint of milk

in a pan until it boils

Add the boiling milk

to the custard powder
Stir the custard

quickly ...

... and return to the pan - heat again

briefly, stirring all of the time ...

... then pour into a jug

for serving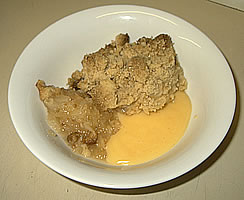 Apple crumble and custard
Back to top
---

LINKS

Home page: Home

Back to top

© UK Student Life 2002-2009


---

* Search this website (www.ukstudentlife.com) or the web: